***THIS PAGE IS BEST ENJOYED @ 1280 X 1024
My name is Irish Willis (Wili) Peele (formerly Engel)
Old family photographs and story from Hatteras Village ~ Thank you for taking time to remember
Frazier Peele @ 17yrs

My paternal family lived & thrived in Hatteras Village.

My father was Mike Peele, the third surviving child of Frazier & Viola. We spent our childhood living with our grandparents in Hatteras, while my father was in college. Later, we stayed with them while our parents ran family businesses (restaurant, pier, etc.). With Gra'mom's heart problems, our aunt & uncle (Sharon & Carl Ludwick) ended up looking after us more often than not.

My grandfather was Luther Frazier Peele (1905-'67) ~ his mother was Elizabeth Gaskill Peele; "Grandmother Lizzy" >

Granny Lizzy was the last of our family to keep in contact with relatives back in the old country (Cornwall, UK). According to our ancestry search, my grandfather's family dates back to the 1700's on the "Carolina Banks". His g-g-g...grandfather Robert Peel, was born in England in 1635 and was "spirited" away to the King's Virginian colonies soon thereafter. [anecdote:] Hatteras has long been a destination for people "on the lamb." During the 17th century, thousands of Irish & Scots were imprisoned in Britain by Oliver Cromwell's ethnic-cleansing tirades. The ones who survived (about half), were "transported" to the colonies. Scottish prisoners were allowed to choose their final destination ~ the grim prospect of working as a plantation slave in Barbados & Virginia drove some to Hatteras. It is unclear whether they came of their own free will (w/ livestock) or came to hide & ended up staying. [anecdote:] The village elders seemed peculiar to outsiders because of their antiquated vocabulary and thick brogue... and the women, who were sturdy by necessity, often smoked pipes or dipped snuff.

Grandmother Lizzy ~ cat lover
"Pop-pop", my gran'dad, was a large man (6'4") known for the equally large Cadillac's he would drive up & down the beach. He served briefly as magistrate and was chairman of the region's Democratic party for many years, up until his untimely death (auto accident). Above all, my grandad was a productive businessman ~ his umbrella business was called HADECO ~ an acronym for Hatteras Development Company. Although, his primary motivation must have been to support his family, he was clearly an overt proponent of civic duty. This philosophy was evident in the incredibly cheap prices he charged for many of his services.

According to his obit: "...Peele was a highly respected leader in his community, and was given credit for the first Ocracoke to Hatteras Ferry... Peele had enough foresight to see the desperate need for a ferry. With very little formal education or money, on a shoestring, Capt. Peele started his first ferry for the people there on the Island. Realizing the need, he started the service that eventually was brought to the attention of the State Highway Commission, which later resulted in the State buying his Ferry Service (sic). Up until his death, he continued to serve as Port Captain of the Hatteras docks for the NCDOT, in which employ he had been since 1957. Prior to operating the Hatteras-Ocracoke Ferry, Peele ran a freight and passenger boat from Hatteras to Engelhard. In addition to the State (NCDOT) position, Peele owned/operated a truck line and a restaurant in Hatteras which bears his name. He was a descendant of one of the oldest and most famous families on the Island."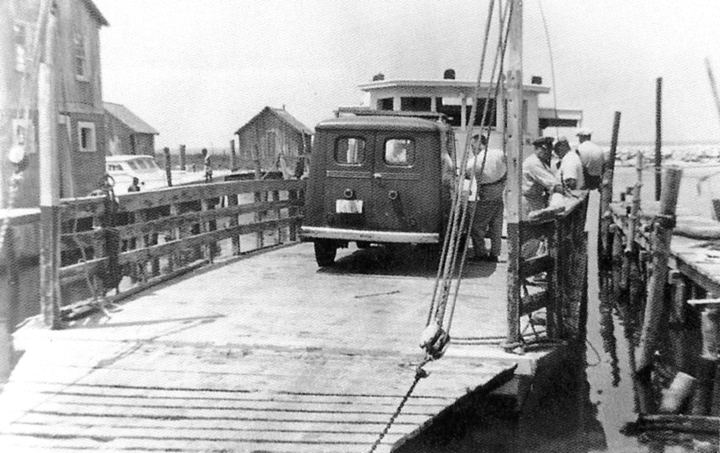 Popop loaded his ferry at the ramp behind their house (now the Breakwater)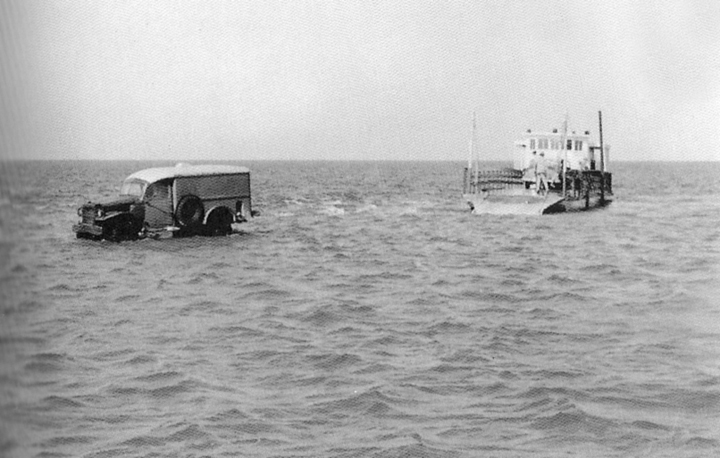 Charlie Mac's mail1218121812181218 truck ~ he and Popop were tight
[anecdote]: Popop ran the ferry rain or shine ~ there were a few times when it got so rough they had to push the cars overboard.
Another one of my grandfather's early businesses was the Hatteras Electric Company. He had been hauling ice for residents back from Engelhard via his freight boat but decided he could provide both ice and electricity locally, with a power source. It would require a very large piece of expensive equipment. His good friend Thomas Eaton came through with the funding needed. Eaton was a wealthy sportsman from New Bern who wanted electricity for his island home. They went down to Florida and bought a giant diesel generator, loaded it on the boat and brought it back to the island (then couldn't figure out how to get it off the boat!). [serendipitous anecdote] My mother married her first husband in the living room of Tom Eaton's home in New Bern. Eaton was also close friends with the Stowe family ~ my mom remained friends w/ the Eatons after she divorced.

Popop, my dad and uncles (Boyd & Keith Peele) also built a fishing pier out in the sound; Frazier's Pier. They built it just over the Hyde County line so they could sell beer legally! (illegal in Dare County).

Since early on, he had a freight service ~ he would buy local seafood, ice it down & drive it to Norfolk, Raleigh, Richmond, etc. to sell wholesale, then haul incoming freight back to the area on the return trip. My father used to tell us stories about driving the giant trucks up the beach road to Norfolk when he was 12 years old!

The last business Pop-pop built was Captain Peele's seafood restaurant. He and my father built the structure (now Sonny's) and ran the restaurant for several years. Uncle Boyd, along with his wife Grace, were the last in our family to operate that business.
Popop, Aunt Sharon & Gov. Cherry

This is how I remember him best;

opening clams for the restaurant, talking business w/ everyone, and smiling ~ always smiling.

I keep this picture hanging over my desk

The funny thing is, his expression changes like the

Mona Lisa, according to the situation du jour.

It's as if he's still doing business ~ only now,

its through me @ Hatteras Silkscreen!
One of Popop's boats ~ @ the fish house ~ as Chairman of the Democratic Party ~ Granny Lizzy w/ Mike & Sharon
My grandmother was Viola Belle Willis Peele.

She married my grandfather when she was 15yrs old (he was 17). In her life, Gramom had 11 children - only 4 lived to be adults. With no medical facility nearby, all of her children were born at home in Hatteras Village. Miss Lucy Stowe was the village mid-wife. As I understand it, the ones who didn't survive were buried in the family graveyard, where Gramom & Popop are, next to Nedo's Hardware. Actually, they put a driveway for the house next door, where many of the older graves are/were.

Gramom was a stay at home matriarch who never learned to drive. She did, however, travel a lot. She made the trip to Manteo often to attend IOOF meetings ~ she was a devoted member of the Manteo Rebekah Lodge.

The dining room of their home was an informal gathering place. It wasn't unusual to see anyone/everyone there. Situated where the Breakwater Motel now sits, they would sip coffee, chat & look over the inlet & sound for hours.

My mom said the first time she met Gramom was when she went to pick-up her trunk & belongings that had been shipped down via my grand-dad's truck line. Mom had recently married her first husband & village native, Freeman Stowe, and was new to the island. She said when Gramom came to the door, she was struck speechless; Mom couldn't believe such a gorgeous, chic woman lived in Hatteras. She found it curious that Gramom was well-spoken and urbane. She kind'a looked like a Native American, and may have even had some of that blood, as the earliest residents blended well with the REAL natives.

Viola Willis Peele (1907-'81)
Gramom's parents were Josephus Irish Willis (1876-1951) and Bertha Ann Austin Willis (1885-1945)

Josephus Irish Willis, Jr. was also an active businessman and property owner. One piece of property he owned (in Sticky Bottom) went back so far, it was deeded to our family by the king of England ~ for free, in exchange for taxes paid. Gramom's family, the Willis's, go back to the early 1700's on Ocracoke/Hatteras Banks (island). Her g-g-g...grandparents, Richard & Jane Henmarsh-Willis came to the colonies between 1600-1626 and died soon after they arrived (but not before giving birth to a few children!) They were from the Cambridge(shire) & Kent regions of England.

Several of my g-g...grandfathers were harbor pilots who served as blockade runners during the War Between the States. Whatever happened in the village during that war, it left very deep scars which, strangely enough, still exist. Gramom spoke of stories told to her by her grannies that suggested the prevailing anti-yankee sentiments stemmed from Union soldier's rampant robbing, looting and thug-like behavior, rather than the issue of slavery / state's rights. Because slavery was for the most part non-existent, islanders had their own (more personal) excuses for disliking northerners.

Rightly or wrongly, living in isolation tends to give one a different perspective of the world. With that said, it stands to reason that attempts by outsiders to interpret and/or record the area's culture will almost always be suspect... such as the wonderful photographic collection produced by Standard Oil of New Jersey during the 1940's.

Today, these photos provide us with historic imagery ~ however, in reality, their intended function was a visual exploration of the island for the purpose of industrial exploitation. If they had in fact, found oil, today the island would most likely be something a kin to an industrial wasteland rather than an isolated nature preserve. Simply holding such age-old sentiments brings to light the fact that many natives are still wary of outsiders, though probably for a different set of reasons.

Bertha Ann & Josephus Irish Willis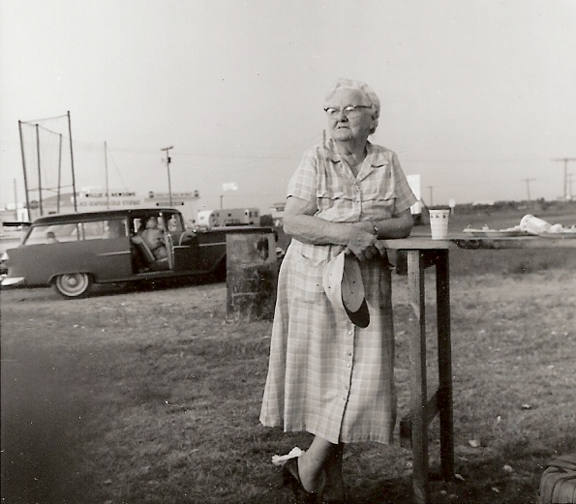 Granny Lizzy at the baseball pitch ~ 1961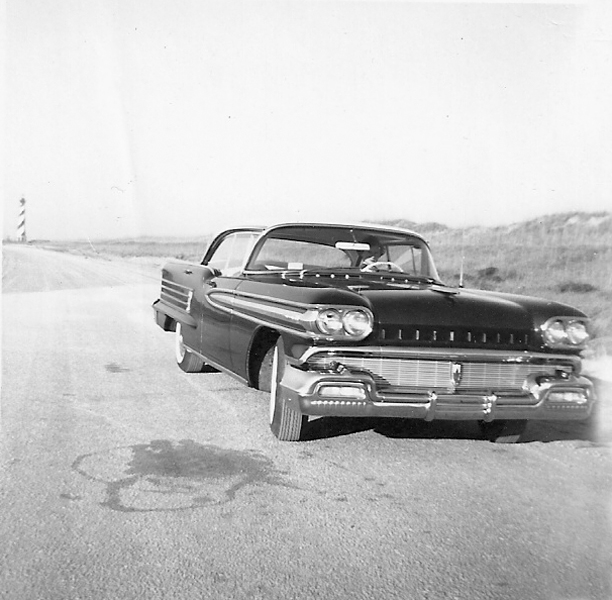 Our Aunt Sharon gives the new asphalt pavement a test run!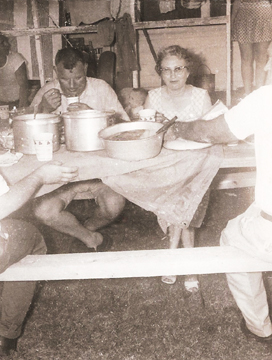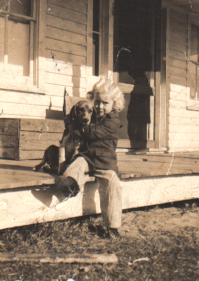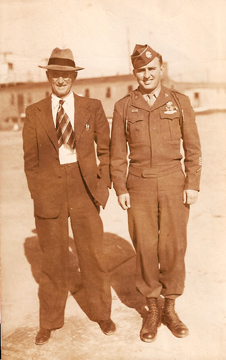 Popop & Maude (aunt) - clam chowder good enough to build a restaurant around ~ Mike Peele 1938 w/ Mike(dog) ~ Irish Willis & Keith Peele, WWII
Eventually, we moved to Virginia Beach so my dad could teach school. We would return to Hatteras for several years during the summer, to run the restaurant & pier. Mom was hostess, my father would cook (along with aunt Margaret) & manage, Lucy Reed & George bussed tables. Perri and I would hang out w/ our cousins, Heidi & Patricia. Our aunt Sharon was in control of us kids (I use that term loosely). She even taught me how to speak (1st words: bird-turd!). Barefooted & suntanned, we spent our days roaming the docks, looking for air conditioning, snacks, and Dark Shadows! After my parents separated, my father made sure we staid close to our Hatteras family. We returned on weekends often ~ the welcome mat was always out @ Sharon & Carl's house. As with all children from a rocky home-life, we longed for love, affection and stability, which was always to be found with our Hatteras family. We could count on our aunt Sharon for a delicious grilled-cheese sandwich and a smile! They never complained when our dad would dump us & go fishing for the weekend. I remember spending countless evenings sitting on the dock, waiting for the boat he was running to come in, straining to see if they were flying any billfish flags.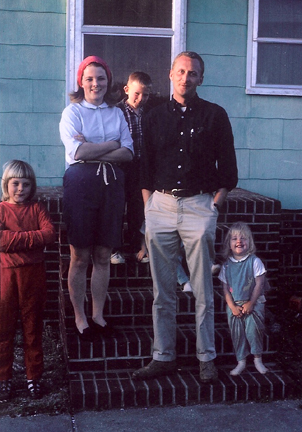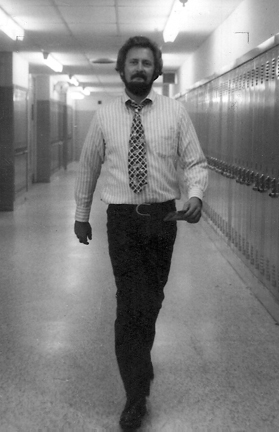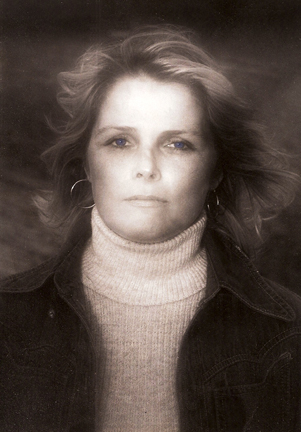 The Peeles 1964 (L-R) Lucy Reed, Sheila, George, Mike & Willi (doing pee-pee dance) ~ Mr. Peele, Lake Taylor H.S. 1974 ~ Bicentennial Mom 1976
(a lot of mouths to feed!)
My father continued to teach marine biology in Norfolk as well as captain offshore charter boats during the summer, for the remainder of his life. Actually, he was better known for sport fishing than anything else. He proved a popular charter/private captain in the mid-Atlantic area. All good things must come to an end ~ and eventually mom ran him off. Even though he emphatically preached non-traditional values, it was his unrealistic aspirations for higher socio-economic status that got him into trouble later in life.
In 1992 his oncologists gave him 5yrs to live ~ During those last 5yrs, he felt compelled to tell me everything; I mean EVERYTHING. In retrospect, there's something to be said for living life unencumbered by intimate knowledge. It's my opinion, my father confused temptation with opportunity ~ although, I don't know if he'd agree. In June 1977, after a 5 1/2 yr battle with cancer, he died. His passing was made doubly sad by the fact his life was in turmoil at the time of his death.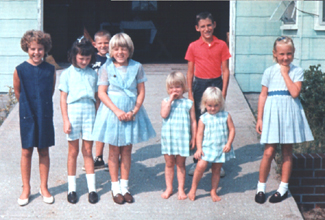 Hatteras birthday: (L-R) Sharon Lee Peele, Leslie Scarborough, George Peele, Lucy Reed Stowe (birthday girl),
Perri Peele, Willy Foster, Willi Peele, Faye Balance
______________________________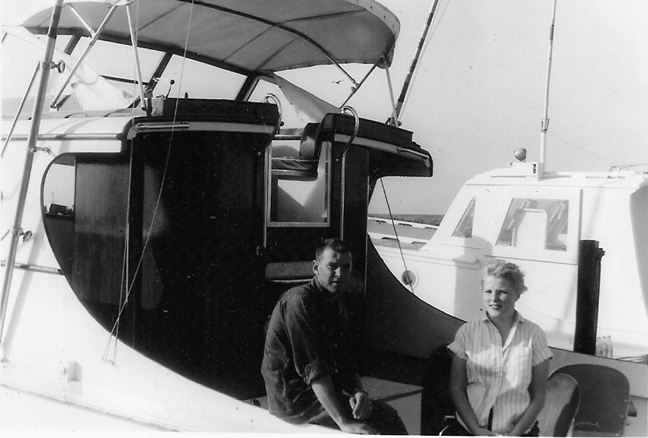 Mom and Freeman on the Twins II
My mother is Sheila Stowe Peele Baumgardner. She was married to Freeman Stowe (known locally as Brother) for 3 years before she married my father.
Freeman was one of the original charterboat men in Hatteras Village. They spent their honeymoon picking-up & delivering a brand-new boat, the Twins, to Florida. According to Jon Wilkins (Kimnach Ford), son of the late Walter Wilkins, Sr., he and his dad carved a prototype hull out of balsawood in their garage, when he was a boy. He said he would hold the giant piece of balsa while his dad drew, then re-drew the lines he was visualizing in his mind, on the wood. They took the model hull to Mr. Gillikin down on Harker's Island and described what they wanted. Wilkins understood the round stern & hull of traditional (Albatross fleet) style sportfishing boats were prone to roll in the turbulent waters off Hatteras. As owner of the only GM dealership in Norfolk, Wilkins had the money and love for Hatteras sportfishing to build the first modern, Carolina-style offshore boats, Twins and Twins II. Mr. Gillikin had the boatbuilding skills and talent to manufacture state-of-the-art, modified V-bottom boats to specification.
The original Twins was named after Captain Edgar Styron's children. The Twins proved an immensely popular charterboat, so Wilkins contracted Mr. Gillikin to build Twins II in order to keep up with demand. Styron was Freeman's brother-in-law and well-known charterboat captain who was famous for running the boats and managing the Hatteras Marlin Club (which Wilkins built on land formerly owned by the Styron family). According to my sister's Aunt Cathleen (Styron's wife), he eventually acquired the boats and continued to charter them out with Freeman & Tex Balance. Jon Wilkins' memories of Styron & the boats are remarkable; he described an incident where Styron jumped off one and swam about 30 yards to the other, while offshore in shark-infested, gulf-stream waters!
At the time of their marriage, my mother was 15 and Freeman was 34.
Even though their marriage was doomed from the onset, some wonderful photos depicting Hatteras life in the 1950's are proof it wasn't all bad.
Mom & brother George 1957

out front of Mr. Dan's store

Sip'n champagne! L-R: Mom, Aunt Lucy (Stowe) and Brenda Styron

Aunt Lucy was the first woman to catch a blue-marlin! She was well known as the weather lady and a popular fishing guide. There is a wonderful photograph & article about her here:

L-R: Freeman Stowe, Mom & Uncle Charlie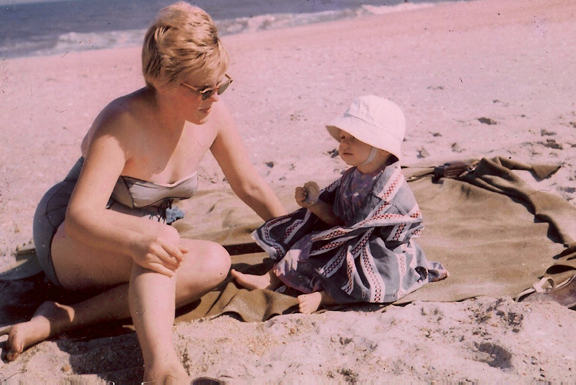 Mom with my oldest sister, Lucy Reed (who is also my cousin)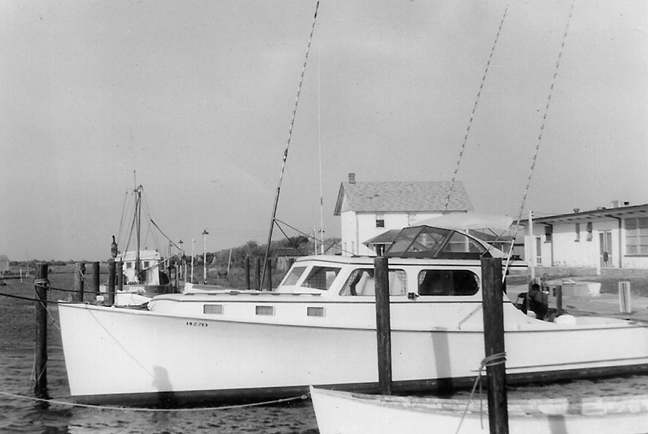 Walter Wilkins' Twins II @ the old Marlin Club
Lucy Reed w/ king&queen

Pirate's Jamboree 1956

Freeman & Mom, Pirate's Jamboree 1956

pirate king/queen

home-crap-home

Spurgeon Stowe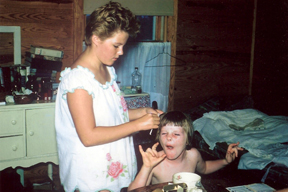 Mom & my aunt Melinda (having a bad hair day)
___________________________________________________________________________
Very little history of the region has been documented and the majority of records which do exist, are in British archives. As a history teacher and graduate student, I have ferreted out a few publications re: colonist's transport records and their motivation for leaving Great Britain (apparently, many were not motivated at all). The earliest colonists did keep fairly accurate birth records, so lineage isn't difficult to trace. Originally, we were told our families had immigrated to America within the last 200 years. However, much to my astonishment, an ancestry search revealed my father's family has been here since the very beginning of the 17th century. Its interesting to note, most of the original Hatteras families immigrated to Hatteras Banks from the mainland via Ocracoke/Portsmouth islands and Carteret (county) rather than from the northern Outer Banks. A few families did come from Virginia, but by way of New Bern and date back as far as 1600.
Clearly, oral history is more subject to interpretation than written. But, in the case of Hatteras Island, where very little history has been recorded, its all we have.
In any event, from an anthropological perspective, oral history offers a rich resource for cultural perspective.
I created this webpage to preserve and share a small part of the oral history passed down to me by an assortment of people who lived it.
As such, it is also and primarily, an attempt at Hatteras Island cultural preservation.
I hope you enjoyed looking over these photo's as much as I enjoyed sharing them with you!