1973 Boston Whaler Outrage - Lo-Profile Conversion/Restoration
19.4 feet • FPBW #00137
"Rutgers Research Vessel Tellina"
(click on thumbnail image for larger view)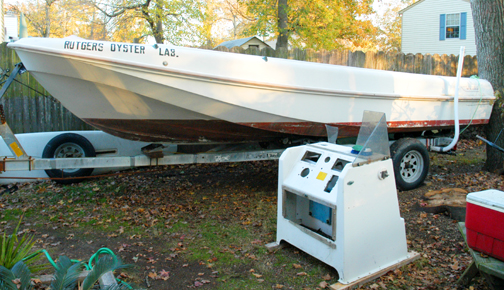 before popping the top sans top after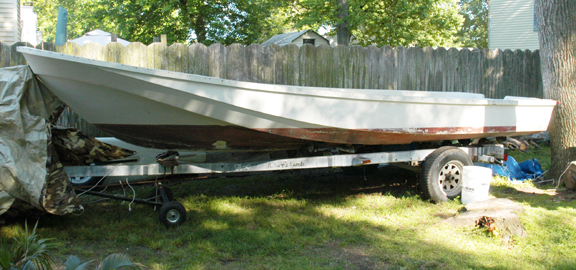 Topless Lo-Profile Whaler
(very sexy)
___________________________________________________
Repairing Water Damaged Inner Foam
Exploratory probes revealed water damaged foam in the anterior 3ft
Opened it up & removed wet foam - Allowed remaining foam to drain & dry (one month warm, sunny weather)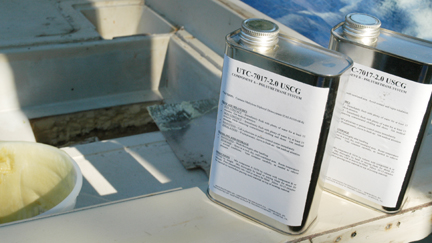 the project & materials
2 part foam mixture - pours like cakemix - expands like soufflé - fish box view
(sticks to everything like melted marshmallows)
50% part A, 50% part B (for approx 8 ft²)

stir for 20secs

pour into hole & stand back (gets hot & noisey)

10-15mins later - WALLAH! - new foam soufflé

allow to harden, shape to desired form

seal it back up w/ cavasil
Thanks to Richard @ Eastern Burlap for tech support
_________________________________________________
Pre-paint prep work:
1 week sanding & re-glassing, & finish sanding spider cracks in gel-coat

Scrape off old bottom paint flakes

Wash down & sand entire boat w/ 150 grit

Awl-grip Oyster White 2 part marine paint topside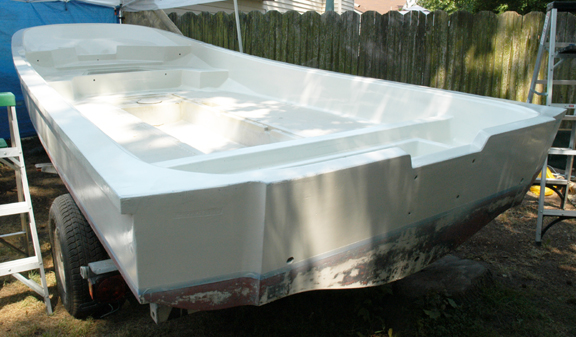 Spraying the 1st coat & prepping the console
_________________________________________________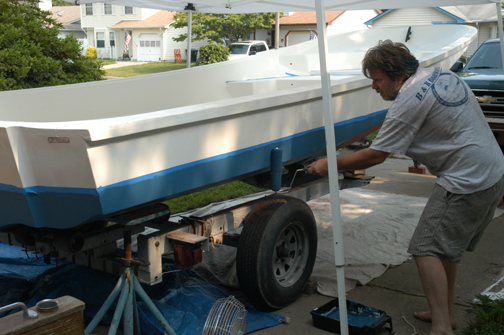 non-skid deck ~ new rub-rail ~ bolt console down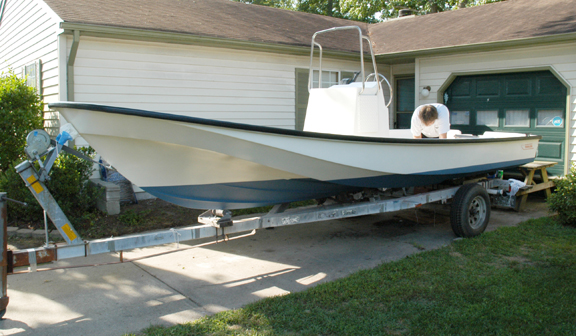 The finished project!
_________________________________________
We were fortunate to acquire this Whaler from a very pleasant waterman up on the eastern shore who was wise enough to recognized it's value as an American classic. Although it was a fairly easy conversion, it took a little more work than we had planned, to re-finish it. Awl-grip paint is fantastic to work with; it goes down thick, is 10X easier to sand than gel-coat, and can be wet-sanded, polished & waxed (like gel-coat) to obtain as shiny a finish as the owner desires. We ended up doing a lot more sanding than we had expected ~ and, to be honest, it still needed some more polishing when we dropped it off with the new owner.
We patched up the drainage holes in the bottom w/ cavasil & cloth and re-painted w/ royal blue anti-fouling paint (because red was on back-order). We used a 2" Taco after-market rub-rail kit w/ black insert to replace the tattered red one it originally came with. After 30mins in the hot sun, the rub-rail was easily stretched, glued and screwed into place.
A very nice gentleman from South Carolina stepped up to the plate to purchase the boat on 6.23.07.
Harry & I were very pleased to see the boat go to a good Carolina home ~ where it will be appreciated for what it is.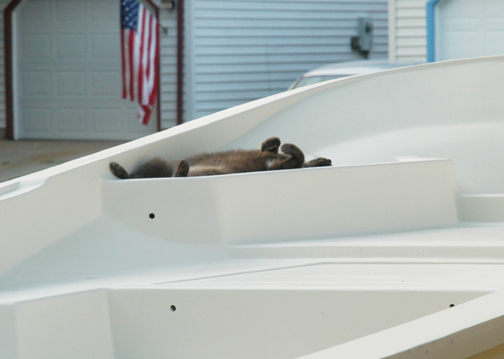 (Sybil wants her bed back)
___________________________________________
The Final Chapter
(or is it?)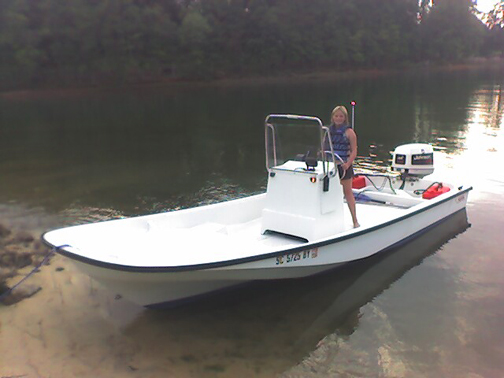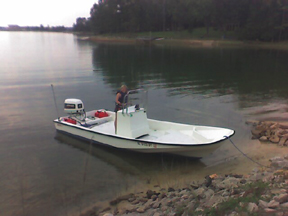 Back @ it's new home in South Carolina, re-powered with a Johnson 120hp
The long journey of this classic Whaler has brought it into the worthy hands of Captain Wesley Skidmore.
After a highly productive former-life, this low-profile Outrage conversion can now enjoy the life of leisure as a family recreation vessel!
We were ecstatic to see this boat back in the water. There always exists an element of uncertainty until you see it afloat.
It took a lot of hard work (hand-sanding 4X) and approx $900 worth of materials to get it there.
I can't help but feel like putting a vintage bananaboat (w/ such gorgeous lines) back in service, is of significant cultural value!
It has been a tremendously rewarding experience.
NOW! ON TO THE NEXT ONE!!!
____________________________________________________________
Wili & Harry Engel