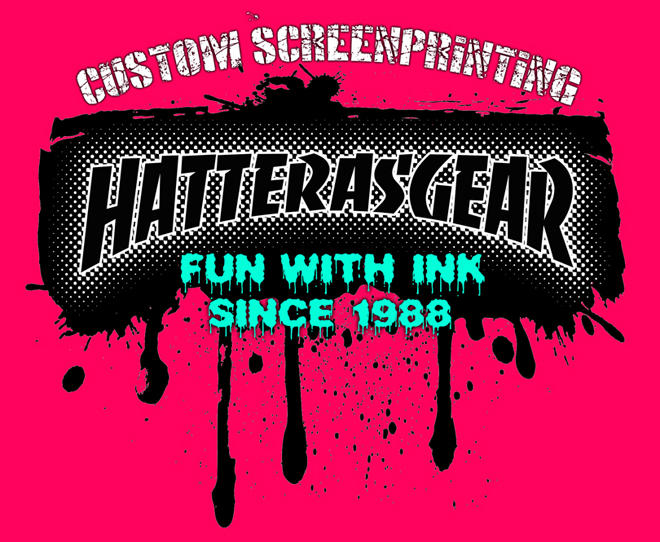 _________________________________________________________________________________________
SCREENPRINTING IS A COMMERCIAL PROCESS ~ HERE ARE SOME IMPORTANT VARIABLES:
QUANTITY:

Custom printed shirts are priced on a sliding scale: the more shirts you have imprinted, the cheaper the individual shirt price. In other words, if you order 24 shirts, the individual shirt price will be higher than if you order 144 shirts. Significant discounts are offered for large volume orders (>200 pieces). Wholesale pricing begins @ around 72 shirts. A customer may mix shirt styles (t's, sweats, tank tops, etc.) & colors to make the total order count higher and therefore get a better price break. There may be additional set-up fees applied to small runs (if they are complex and involve lengthy press set-up time).
CUSTOM DESIGNS:

Put our award winning artists to work for you!

Whether you have your own artwork or need us to design something for you, we can put it on t-shirts! Generally, we offer simple lettering or layouts for bulk orders free of charge. Over the years, we have created professional silkscreen imprints from a wide range of sources such as customer's fine-art paintings to pencil sketches of stick people on cocktail napkins.

ART SPECS: High resolution .jpg images are the simplest form of art to work with. Most images found on the internet are not suitable for screenprinting. Most designs are 'vectorized' before color separations can be done. We work with Adobe CS3; art files created with other programs should be saved in a compatible format. Pen and ink drawings are preferable for hand drawn imagery. Complex art prep runs approx $50 per hour.

Allow 1-2 additional weeks to delivery time for complex creations.

Our staff artist >
NEW DESIGN SET-UP:

Screen set-up fees are based on the number of ink colors in a design (black and white are considered colors). This is a one-time fee which is not repeated on re-orders. This fee also contributes to the cost of color separations as well. It takes approximately 3 days to prepare a press-ready screen; Screen set-up prices can run from $30 per screen/ink color to no charge at all (for large volume orders). We keep a customer's screens on file for one year (re-orders stay on file indefinitely).

Screens remain the property of Hatteras Silkscreen ~ If there are no re-orders and screens go unused for more than 6 months, they are recycled.
Blah, Blah, Blah...

The style of shirt you order can reflect in the price as well.

Hatteras Silkscreen specializes in premium quality screenprinting; we only use the best quality name-brand blanks for imprinting. But if you REALLY need a cheap shirt, we can print on those as well (time permitting).

Factors which effect shirt price:

1.) fabric color - the least expensive shirts are white, light colors are list price, darks & pigment dyed shirts cost extra.

2.) shirt size - prices are quoted for adult sizes small thru X-large; XXL, XXXL & up cost extra.

3.) weight of fabric - we use 1st quality, 6.1oz cotton 'Ultra' weight t-shirts. Sweatshirts are available in many weights; heavier wts cost more.

4.) left-chest pockets - expect to pay extra for pocketed shirts (approx $1.50 - $2ea).
Average Delivery Time: 10-14 days

(please allow extra time for complex projects)

CONTACT INFO:

315 N. Great Neck Road, Suite #324

London Bridge Shopping Center

Virginia Beach, VA 23454

(757) 486-2976

Willis@hatterasgear.com

__________________________________

[ Hatteras Surfgear / Hatteras Silkscreen / Hatteras Family History / Visit Hatteras ]
© Hatteras Silkscreen & Urbane Creations 2013